General Dentistry Asheville, NC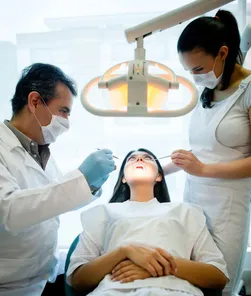 Regular dental checkups and cleanings are an important step in the process of maintaining healthy gums and teeth. We recommend visiting us in Asheville, NC at least once every six months for a general dentistry checkup. If you currently have problems when you brush or floss your teeth, which many include bleeding or discomfort, you may have cavities, tooth decay, gingivitis, or an infection. Ignoring a problem can result in more serious medical issues that may require painful and expensive dental surgery in the future. Therefore, the best route is to schedule your general dentistry appointments with us on a regular basis.
Dental Care For Patients Of All Ages
At Asheville Family Dentistry, we offer general dentistry to patients of all ages, ranging from young childhood to adulthood. We enjoy taking care of families, so feel free to schedule appointments for yourself and your children. During your dental checkup, a dental hygienist will perform a teeth cleaning, and one of our Asheville dentists will come in to check your teeth and review x-rays, which are generally taken once per year. We recommend coming in for a cleaning every six months for optimal dental health.
Our dentists have years of general dentistry experience and enjoy providing dental care for each of our patients. We also provide cosmetic dentistry to help improve the look and feel of your smile, so if you have something that bothers you about your teeth and gums, come in for a consultation. Our providers are native to the Asheville, North Carolina area, so call us for an appointment for all of your general dentistry needs.
Why You Should Choose Us To Be Your General Dentist In Asheville, NC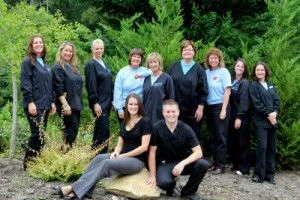 What do you look for when it comes to a dentist? Timely appointments? Will work with uninsured patients? Gentle? If you answered yes to any of these questions, look no further! Here at Asheville Family Dentistry, we want to be your general dentist! There are many reasons why you should choose us to be your general dentist, but just some of these include:
We work with uninsured patients– We understand that not everyone has dental insurance, but that doesn't mean you should neglect your smile! We work with our patients to ensure that they get the dental care they need for a reasonable price they can afford. No one should needlessly suffer toothaches or other dental problems, so please let us help!
Incredibly gentle– Fear of the dentist is one of the most common fears in the country, and we understand that often fear of the dentist will cause people to avoid seeking out treatment. We work hard to ensure that your visit with us is as pleasant as possible. If you need a little additional help, we can help with some sedation procedures.
Great with patients of all ages– We love working with patients of all ages! From your baby sister up to your great-grandpa, we want to see them all!
The next time you're looking for a quality general dentist who is not only good at their work, but wonderful to work with, check out Asheville Family Dentistry in Asheville, NC. Let us help you ensure that your smile is forever. Contact us today!
Looking to make Asheville Family Dentistry your provider for general dentistry? Contact one of our Asheville, NC locations! Call our Tunnel Road location at (828) 299-4455 or our Brevard Road location at (828) 670-9394 to schedule your next appointment.