My Blog
Posts for tag: gum disease
By Asheville Family Dentistry
October 06, 2018
In the quest for the ideal diet, people often stress over one particular food group: carbohydrates. And for good reason—some carbohydrates have been linked to chronic inflammation, a contributing factor in many diseases. One such condition in particular, periodontal (gum) disease, could permanently damage your dental health.
But before you throw all the carbs out of your diet, let's take a closer look at them. Not all carbs are the same or contribute to inflammation to the same degree.
Carbohydrates are organic compounds existing in living tissues. In foods, the most prevalent of these are sugars and starches that break down during digestion into the simple sugar glucose, which the cells in an organism use for energy.
But not all carb-based foods digest at the same rate, measured along a scale called the glycemic index. High glycemic foods like sugar, baked goods or potatoes digest quickly and can rapidly increase the glucose levels in the blood (blood sugar). This sudden glucose spike then triggers an insulin surge from the pancreas to restore the level to normal. This process in turn can cause inflammation.
On the other end of the glycemic index are complex or unrefined carbohydrates that digest much more slowly, and don't quickly elevate blood sugar like simple carbs. In fact, nutritional studies consistently show carbohydrates in most vegetables, greens, beans or whole grains may actually decrease inflammation.
Inflammation is also a primary factor in gum disease, caused by a bacterial infection in the gums. Chronic inflammation damages the gums' attachment with the teeth and can contribute to eventual tooth loss. And if your body already has an overactive inflammatory response due to your diet, you could be even more susceptible to gum disease.
A change in your diet in relation to carbs could help reduce this risk. Eat less sugar, white flour, rice and potatoes and more complex carbs like fresh vegetables and fruits. For even more protection include foods rich in Omega-3 fatty acids (like certain fish and nuts) and less Omega 6 foods (fried food or pastries, or chips, for example). And don't forget your antioxidants, vitamins and minerals.
Eating fewer simple carbs and more complex carbs will help reduce inflammation in the body. And that's a good thing for your gums.
If you would like more information on how diet affects dental health, please contact us or schedule an appointment for a consultation. You can also learn more about this topic by reading the Dear Doctor magazine article "Carbohydrates Linked to Gum Disease."
By Asheville Family Dentistry
December 09, 2017
Although periodontal (gum) disease usually affects your gums first, your teeth may eventually suffer. That's because the disease can damage both attaching gum tissues and supporting bone.
One advanced sign of this is when one or more teeth become loose. A loose tooth is an alarm bell that you're about to lose it.
Fortunately, we can often treat loose diseased teeth with a two-phase approach. First and foremost, we need to bring the gum infection under control by removing plaque and calculus (tartar) — the "fuel" for the infection — from all tooth and gum surfaces. Depending on how extensive it is, we have options: we can use specially designed hand instruments to remove plaque and calculus, ultrasonic equipment that loosens and flushes plaque and calculus away, or, if necessary, conventional or laser surgery.
Depending on the extent of the infection, in some cases we may need to use regenerative surgical techniques like gum and bone grafting to replace lost tissue. Healing takes time, though, which leads to the second phase of treatment — securing the loose tooth during gum healing.
The most common way is through a bite adjustment, where teeth are altered to equilibrate chewing forces evenly. This results in all the teeth being hit at the same time allowing the loose teeth to heal and tighten up.
Another option is splinting teeth together. Although there are different methods, the basic idea is to join the loose teeth with stable teeth like pickets in a fence. One way is to bond splinting material across the back surfaces of the involved teeth. Another way is to cut in a small channel across the teeth and insert and bond a rigid strip of metal to splint the teeth in place.
The splint is usually a temporary measure while the gums heal. In some situations, though, we may need to perform a permanent splint by crowning the affected teeth and then splinting the crowns together. If you have a grinding habit we may also prescribe a night guard to limit the damage done while you sleep.
Before deciding on which technique is best for you, we would first need to evaluate the health of the affected teeth to see whether the effort would be worth it. It could be the tooth's supporting bone structure has become so deteriorated that it might be better to extract the tooth and consider an implant or other replacement. First, though, we would attempt if at all practical to save the tooth — and the sooner we begin treating it, the better your chances for such an outcome.
If you would like more information on loose teeth and gum disease, please contact us or schedule an appointment for a consultation. You can also learn more about this topic by reading the Dear Doctor magazine article "Treatment for Loose Teeth."
By Asheville Family Dentistry
October 10, 2017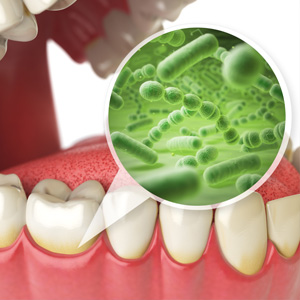 Here's a sobering statistic: you have a 50/50 chance over your lifetime for developing periodontal (gum) disease. And it's much more serious than irritated gums: if not treated aggressively you could experience bone loss, which can not only lead to tooth loss but actually increases your risk of heart attack and stroke.
Initially, you may not notice any symptoms unless you know what to look for: mainly red and puffy gums that frequently bleed during brushing and flossing. As the infection advances into the underlying support structures that hold teeth in place you may also notice receding gums (moving away from your teeth causing them to look longer), pus around the gums or lingering bad breath or taste. And one or more loose teeth are a definite sign the supporting structures have weakened severely.
So, how does gum disease happen? It starts with bacteria. Your mouth contains millions of these and other microorganisms, most of which are friendly and even beneficial. Unfortunately, a fraction of them can infect and harm tissues like the gums and underlying bone. Your mouth's defenses can normally handle them if their numbers remain low. But a bacterial population explosion can quickly overwhelm those defenses.
Bacteria are like any other life form: they need a secure environment and food. Disease-causing bacteria establish the former by utilizing proteins and other components of saliva to form a sticky biofilm on teeth known as plaque. Within the safe haven of dental plaque bacteria quickly multiply and form a complex and concentrated ecosystem feeding on remnant food particles, especially sugar and other carbohydrates.
The key to gum disease prevention (as well as treatment) is to deprive bacteria of their home and food source by removing plaque and its more hardened form calculus (tartar). You can manage plaque buildup by brushing and flossing daily, seeing your dentist regularly for cleanings to remove any remaining hard-to-reach plaque and calculus, and eating a nutritious diet with fewer sweets or other carbohydrate-rich snacks.
You can further lower your disease risk by avoiding smoking and other tobacco products and moderating your consumption of alcohol. And be sure to see your dentist as soon as possible if you notice any signs of infection with your gums. Taking these steps can help you avoid gum disease's destructiveness and help preserve a healthy and attractive smile.
If you would like more information on gum disease, please contact us or schedule an appointment for a consultation.