My Blog
Posts for: November, 2019
By Asheville Family Dentistry
November 20, 2019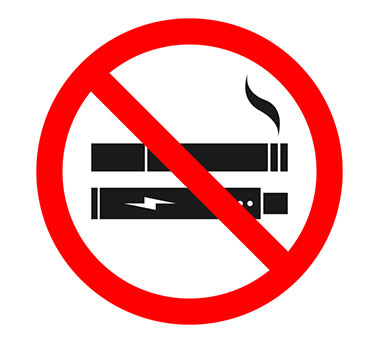 The electronic cigarette (e-cig), the much-acclaimed smoking alternative, has recently been linked to hundreds of lung-related illnesses and deaths among otherwise healthy young adults. But dentists were actually among the first to sound alarm bells on the potential harm of "vaping," particularly to dental health.
If you're vaping as a substitute for smoking, you may be trading one set of oral health risks for another. Many dentists believe vaping may be no safer for your mouth than traditional tobacco.
An e-cig is a small, handheld device that holds a mixture of water, flavoring and chemicals. The device heats the liquid until it becomes a gaseous aerosol the user inhales into their lungs. Proponents say it's a safer and cleaner alternative to smoking. But, like cigarettes, vaping mixtures can contain nicotine. This chemical constricts blood vessels, decreasing nutrients and infection-fighting agents to the gums and increasing the risk of gum disease.
And although vaping flavorings are FDA-approved as a food additive, there's some evidence as an aerosol they irritate the mouth's inner membranes and cause mouth dryness similar to smoking. Vaping liquids also contain propylene glycol for moisture preservation, which some studies have shown increases a buildup of plaque, the bacterial film most responsible for dental disease.
All of these different effects from vaping can create a perfect storm in the mouth for disease. So, rather than switch to vaping, consider quitting the tobacco habit altogether. It's a solid thing to do for your teeth and gums, not to mention the rest of the body.
As we commemorate the Great American Smokeout on November 21, this month is the perfect time to take action. Here are some tips to help you kick the habit.
Don't try to quit all at once. Your body has developed a physical connection with nicotine, so quitting "cold turkey" can be extremely difficult and unpleasant. Although different approaches work for different people, you may find it easier to overcome your habit by gradually reducing the number of cigarettes you smoke each day.
Enroll in a cessation program. There are a number of step-by-step programs, some involving medication, that can help you quit smoking. Talk to us or your doctor about using a cessation program to end your tobacco habit.
Seek support from others. Beating the smoking habit can be tough if you're trying to do it solo. Instead, enlist the help of family and friends to support you and keep you on track. Consider also joining a supervised support group for quitting smoking near you or online.
Smoking can harm your dental health and vaping may be just as harmful. Distancing yourself from both habits will help you maintain a healthier smile and a healthier life.
If you would like more information about the effects of vaping and tobacco use, please contact us or schedule a consultation. To learn more, read the Dear Doctor magazine articles "Vaping and Oral Health" and "Smoking and Gum Disease."
By Asheville Family Dentistry
November 10, 2019
You feel great about your new smile, thanks to dental implants! And you may also be feeling relief as the problems with your former teeth fade into the past.
But that doesn't mean you can drop your guard on periodontal (gum) disease. Even though implants are impervious to decay, the natural tissues supporting them are vulnerable to periodontal (gum) disease. If they become diseased, your implants could lose their bone support and eventually fail.
And that failure could happen quickly. That's because, as life-like as they are, implants don't have one important advantage of real teeth: an attachment to a connective tissue called the periodontal ligament. This tough but elastic ligament lies between the teeth and the bone, attaching to both with tiny extending fibers and holding the teeth in place.
And that's not all: Because the periodontal ligament contains an abundance of blood vessels, it can supply antibodies to help fight infection. The body's defenses may not be able to stop disease, but they can certainly inhibit its progress.
Implants can't benefit from this infection-fighting mechanism. So, when an infection arises in the gums surrounding an implant, it can spread rapidly through a form of gum disease known as peri-implantitis (literally "inflammation around an implant"). If we don't stop it with prompt treatment, you could lose bone support from your implant and eventually lose it, sometimes in quick fashion.
That's why you should clean your implants everyday like you do the rest of your teeth with brushing and flossing. You should also visit us regularly for dental cleanings. A dental cleaning involving implants is similar to one with natural teeth, except the hygienist won't use metal instruments on the implants—this could create tiny scratches on their surface. Instead, they'll use nylon or plastic instruments or ultrasonic equipment to clean them.
You should also make a dental appointment as soon as you notice swollen, reddened or bleeding gums. If you have gum disease, we can stop the infection through treatment and restore your gums to health. This can be a long and involved process, but it's necessary to preserve your implants.
It's true that implants can change your life. If you want to enjoy that change for a long time, take care of your implants and the natural tissues that support them.
If you would like more information on caring for dental implants, please contact us or schedule an appointment for a consultation. You can also learn more about this topic by reading the Dear Doctor magazine article "Dental Implant Maintenance."