My Blog
Posts for: February, 2019
By Asheville Family Dentistry
February 13, 2019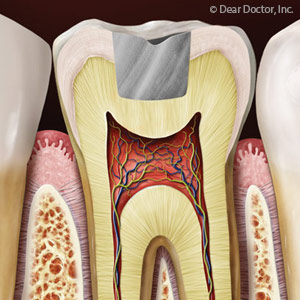 Recently, a number of new filling materials that mimic tooth color have come into popular use and, so far, have proven more durable than past versions. Even so, the traditional metal-based dental amalgam remains a viable choice, especially for less visible back teeth and their higher biting forces.
Used for more than a century, dental amalgam is a metal alloy composed of silver, mercury, tin and copper. The mixture is carefully proportioned so that potentially hazardous mercury is kept to a minimum and bonded with the other metals. Amalgam in its initial form is quite pliable so that it can be molded into the tooth structure under repair. Afterward it sets hard to form a durable filling that can withstand the daily force generated when we bite and chew food.
Besides durability, dental amalgam rarely causes an allergic reaction in a patient, and it's easy for trained dentists to apply. On the downside, however, it can cause temporary temperature sensitivity in the tooth just after filling, and the tooth itself may require some removal of healthy structure to help keep the filling in place. And from an aesthetic point of view, its metallic appearance is considered unattractive especially for front teeth.
The presence of mercury in amalgam has also raised concerns over the years. "Free" mercury — atoms that escape through vapor emitted by the metal — can enter the bloodstream and potentially harm the nervous system. But after extensive study and research, U.S. and international health bodies including the American Dental Association have concluded any free mercury released during chewing is extremely low and well below any harmful levels. These studies have also found no ill effects in either children or adults with dental amalgam fillings.
Deciding on the type of filling material to use — dental amalgam or a newer composite resin, resin ionomer or glass ionomer — depends on a number of factors including the location of the teeth to be filled, the extent of decay and your personal preferences. Taking these into account, we'll be happy to discuss which type of filling will suit you best for repairing decayed teeth.
If you would like more information on filling material options including dental amalgam, please contact us or schedule an appointment for a consultation. You can also learn more about this topic by reading the Dear Doctor magazine article "Silver Fillings — Safe or Unsafe?"
By Asheville Family Dentistry
February 03, 2019
Like other healthcare providers, your dentist keeps records of your ongoing care. These include not only their written notes but also x-ray imaging, frequency of visits and cleanings, and any medical information that could affect your care. What's more, they have a legal obligation to maintain these records.
Your dental records help guide decisions about your care. In that regard, you should consider something else—you may need to change providers: your dentist retires or you move; your dentist isn't in your new insurance network; or, unfortunately, you have an "irreconcilable" difference with your provider.
If that happens, it's very important your dental records find their way to your new provider. Here are 3 reasons why.
Your individual dental history. Each person's dental situation and needs are unique. Your past records help clue in your new dentist about your past history and current needs, which will help guide how they treat you.
Time and money. Your dental records contain x-rays or other diagnostic information about your oral condition, including preparations for any upcoming dental work. If you change dentists before completing that treatment, your new dentist may have to start over with new diagnostic tests if they don't have this previous data. It could cost you more money and make you wait longer for a needed procedure.
Coordinating dental care with your general health. Your mouth isn't isolated from the rest of your body, and some dental treatment measures could affect other health conditions (and vice-versa). If your new dentist knows other health issues you may have from your previous records, it can help ensure you're getting dental treatment appropriate to your overall health.
For the most streamlined transition between providers, it's important your dental records follow you. You're entitled to having those records transferred, and, if you're uncomfortable asking yourself, your new provider can obtain them for you. Just be sure to ask.
If you would like more information on your rights regarding your dental care records, please contact us or schedule an appointment for a consultation. You can also learn more about this topic by reading the Dear Doctor magazine article "Why Your Dental Records Should Follow You."